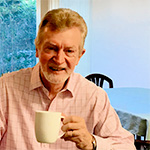 "Thank God the bastard's dead!", the not-so grieving widow snapped back after I offered my sympathy.
I had assumed she was grieving. I came to her home to arrange the funeral of her deceased 42-year-old husband, the father of her six kids.
"Tell me about him." I asked.
Her years of pain poured out. He was a violent alcoholic whose drinking resulted in him dying young. To live with him was pure hell. She felt trapped in a marriage, unable to escape.