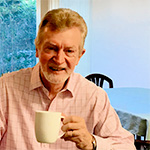 It was Paula D'Arcy who wrote, God comes to us disguised as our life.
Paula D'Arcy wrote those words after a drunk driver killed her husband and one-year-old child, when Paula was just 27, and three months pregnant.
Frederick Buechner echoes a similar insight. He suggests living a spiritual life is to 'listen to (our) life'.
I share a story from my life, in which I tried to listen to my life.
In 1981, I accompanied a group of young people on a pilgrimage to a Eucharistic Congress in Lourdes, France. In the preceding months, I sensed I might experience spiritual healing during the pilgrimage. [Read more…] about God disguised as our life