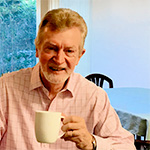 The only time the police ever asked me to identify a dead body, I identified two deceased people laid out in a regional costal hospital morgue. A man drove himself and his wife off a wharf into the sea where they drowned.
Days before, the man turned up unannounced at the presbytery, where I was an assistant parish priest. He complained his wrist watch was speaking to him. I invited him to come inside.
He became agitated. The walls were speaking to him. He threatened self-harm. While trying to calm him, I telephoned the police.
The police escorted him to the local hospital emergency department. The doctor assessed him and sent the man for a three-day involuntary psychiatric assessment to a major hospital in a neighbouring city.
Within a day of being admitted, the hospital released him. His wife picked him up from the hospital to bring him home. You know how the tragic story ends.
Later, after I identified the deceased couple, I accompanied the police to inform the couple's relatives of their deaths. I still remember their shock and dismay.
One relative who worked in a bakery, she collapsed against the glass display shelves on hearing the tragic news. The woman's falling brought the shelves and assorted bread crashing to the floor.
I then went to tell the couple's children. They were staying with relatives while the wife went to pick up her husband from the hospital.
I knew it was important to tell the children their parents were dead, knowing how they heard the tragic news would stay with them for life.
Telling the children their parents had died was one of the hardest things I have ever done.
The man's mental illness contributed to the couple's death. The ripple effect of this tragedy scared their children and their extended family and friends.
Even when our best efforts to turn back the tide of tragedy are unsuccessful, take the risk of reaching out to support those living in the shadow of mental illness. Your first step might be to ask, "How are you today?"